Inner Child Shadow Work – Self Help Therapy Technique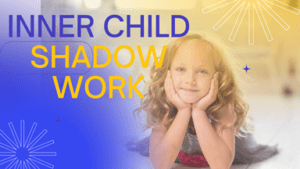 Inner Child work, also known as 'Shadow Work' is a fabulous self-help therapy technique you can apply at any time, even daily. It is probably the best form of self-love you can give to yourself at will, and also in uncomfortable situations whenever you feel triggered.
Please note: this video formed part of my "Stress Gone! Method", which I published during the early stages of the pandemic in 2020, and have subsequently dismantled. As such, I thought I'd now share this info publically enabling everyone to benefit, without any costs associated.
In this Inner Child work video I provide the important basic aspects, giving you an overall understanding of what it is, and how you can use this as a self help therapy process:
*   Who and what is your inner child,
*   The emotional and psychological aspects,
*   The energetic and spiritual aspects,
*   Parents and parenting,
*   Is your inner child wounded, or  not?  Questions to ask yourself.
*   Steps to understand, and start fulfilling your inner child's needs.
After watching this video, if you'd like further support, and or guidance, feel free to reach out, and let's chat about your needs.
Simply contact me here to book a consultation.
PS:  A free PDF download is provided below this video
Lastly, please leave me a like and positive comment on this YouTube video (click the YouTube icon to go there), and subscribe to my channel for upcoming videos. This also helps YouTube algorythms place my videos in front of more people so you're paying it forward, and benefitting more people. Thank you!
Enjoy the video! 🙂

FREE PDF DOWNLOAD:
As a special gift, I'm also providing you with a 14 page PDF of this video's content, which you can download and refer to at any time while you're learning how to use this Inner Child work process.
To download this PDF, I do ask for your email address (that way I know you're a real person, and not some spammy bot!) 
Click here to download, and receive your free PDF.
ADDITIONAL FREE SELF-HELP THERAPY TECHNIQUES:
Perhaps you can also benefit from these self-help techniques, which I've also made videos about. They're all quick and easy processes to apply, and very effective too … yes, I only like working with techniques that quick, easy and effective! Lol … instant gratification at its best! 🙂
*   Self Love technique to improve confidence, joy and well being – here
*   "I Am" – divine, prophetic words of creation and power – here
*   How to cope with grief and loss, including understanding the stages of loss, and developing self-compassion (as a result of a myriad of losses created pandemic and lockdowns) – here
Lastly, a quick question … has traditional psychotherapy let you down? Cost a lot of money, but not given you the results you really wanted?  Check out this video here
Are you here looking for SOLUTIONS?
And, perhaps need someone to talk to?
I offer a FREE 20 minute consultation online.

FREE 7 day Stress Gone! e-course
Yes, stress sucks and can be detrimental. Yet, stress offers valuable BENEFITS too.
Learn how to take ADVANTAGE of these benefits, and THRIVE in all areas of your life.
* Course is for ANYONE who wants SUCCESS in life!

How Stressed Are You?

Take this FREE Stress Quiz ~ it can provide valuable insights and understanding of your current stress. 
Become empowered by
10 simple questions ~ you maybe surprised!
Client Testimonials – Stress Management
"Bridget is sharply observant of the source of one's stresses and strains and is immensely enthusiastic and motivational in helping one deal with challenges in all arenas of life. So glad she is a consultation away #gratitude."  Michele Higginson, CEO and Owner at Crabtree & Evelyn  (One session only)
"Bridget was my life line when I was going through a very difficult time in my life. The anti-stress techniques she taught me were invaluable and she was a text away anytime i needed her. I'm so grateful to know I have you on speed dial."   Kathryn Main, CEO at Financial Literacy Disruptor and Educator (One session only)
"I could have never imagined that a powerful tool like this existed. From one session, I had a life changing experience where anxiety, stress and fear was a normal part of my daily routine to a clam clear and collected way of conducting my day. Even more amazing was that EFT was not a temporary solution but a lasting feeling that I still have a week later. EFT has empowered me to take control of so many aspects of my life with confidence and make life so much more enjoyable!"   Pieter, Johannesburg  (One session only)
More client testimonials on topics such as addictions, anger management,
anxiety, depression, trauma etc can be found here