Stress, Modern Day Badge of Honour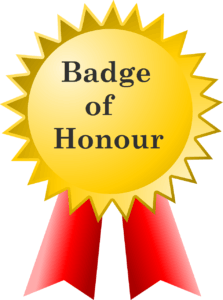 Since stress is a natural response, it is considered a normal part of life today. Although at times stress can feel decidedly unpleasant, you may be surprised to know, it serves a very useful purpose. In fact, the fight-flight-freeze stress response is absolutely vital for our human existence and survival too.
Although we no longer live in a jungle or need to protect ourselves from dangerous wild animals, the daily demands, deadlines and stressful frustrations of this modern 'concrete jungle' are so common that stress has become an accepted norm, and way of life.
In many respects I'd argue this concrete jungle's stresses are FAR more dangerous and detrimental to our health and well being because there's little or no respite from the continual onslaught of demanding daily pressures. Constantly tasked to perform at high levels, whilst achieving target after target becomes exhausting, and is unsustainable unless you're a robot!
Today, the jungle's dangerous wild animals have been replaced, and amplified a thousand fold by way of perpetual traffic, media, environmental noises, toxic chemicals, pollution, poor nutrition, demanding bosses, colleagues, customers, suppliers, 24/7 technology, crime, health, financial and relationship issues etc. Living in any major city where the population density is extreme, these stressful situations are exacerbated. Every which way one turns there's some insidious challenge to be faced – this can feel never-ending, hence overwhelm and burn out becomes inevitable.
For some there is a warped perception that stress, or the amount of stress, is actually indicative of success, and therefore a necessary ingredient of success, proudly worn like a 'badge of honour' says Dr Lissa Rankin.
In other words, success and stress automatically go hand in hand – implying the more stressed (or hectic) you are, the more successful you appear to be in the eyes of others. Some even subscribed to the notion that the more stressed one is the more "important" one's position (or role in a company, community or family) is deemed to be.
Be careful of falling into this delusional trap. Both are erroneous beliefs and expectations, which may be detrimental to your health and well being too. Stress is not a badge of honour; quite the contrary, stress is an important early warning signal that you're under pressure, overloaded and not coping. Heed this valuable warning. Being a martyr never served anyone, lest of all you.
I'm sure you've heard of the term "adrenaline junkie"? This usually applies to people who love extreme sports, and living on the edge. But in truth, the stress chemical known as adrenaline (cortisol or nor-adrenaline) can become highly addictive, resulting in some seemingly 'thriving' upon the drama of stressful situations. You've probably witnessed how these folks unwittingly create, or perpetuate, unnecessary drama purely in order to fuel their stress addiction. A word of caution, this apparent 'thriving' is only temporary – over time the consequences of continual or excessive stress inevitably result in adrenal fatigue, also known as burnout.
Stress implies demands, difficulties, strain, resistance, force, exerting willpower, or a refusal to change or accept what is. In other words, you're not living 'in flow', and not going with the natural ebb and flow of life. Instead, you're possibly trying to swim upstream, hence the resultant stress. Living this way is not conducive to healthy or successful living, and the consequences can be dire.
According to the medical fraternity, approximately 90% of all illness and disease is stress related. Poor health, insomnia, fatigue, aches and pains, premature ageing, weight gain, anger, depression and even anxiety are usually as a result of unrelenting stress. Become aware of your daily stress, and the impact this is having on you mentally, emotionally, physically and behaviourally.
When we are clear, focused, relaxed and totally congruent about what it is we want, life flows easily while attracting success naturally too. The real issue is that most of us are not clear or congruent with what we want in life, and these conflicting states cause us to vacillate unnecessarily, and stress becomes the result.
Stress is not a 'badge of honour', but the inability to cope effectively under pressure. Be brutally honest with yourself to avoid falling for this trap. Furthermore, let go of the harmful addiction to stress chemicals.
Detach from unnecessary stressful situations. Unplug from all forms of negativity, including media, social media and gossip. Take time out. Pamper yourself. Reflect. Breathe. Relax. Let go.
Emerson said, "The first wealth is health", and it all begins with you.
Honour yourself in worthy, deserving and empowering ways! 
#StressGone!
How Can I Be of Service to You Right Now?



* I offer a FREE 20 minute pre-consultation, and have a FREE online Stress Quiz which can give you a snapshot evaluation of your current stress levels.  I also provide a FREE 7 day ecourse, 'How to Use the Benefits of Stress to Your Advantage'.  All three of these options can be found on this page (either below or to the side of this post – see the green or lilac boxes)
* On my Blog you can find several posts providing a variety of FREE stress relief tips under the categories of Entrepreneurs, Lifestyle, Parents, Stress, Stress Tips, Techniques as well as some of my thoughts about Sustainable Living etc

Stress Management Testimonials

"Bridget is sharply observant of the source of one's stresses and strains and is immensely enthusiastic and motivational in helping one deal with challenges in all arenas of life. So glad she is a consultation away #gratitude."  Michele Higginson, CEO and Owner at Crabtree & Evelyn  (One session only)
"Bridget was my life line when I was going through a very difficult time in my life. The anti-stress techniques she taught me were invaluable and she was a text away anytime i needed her. I'm so grateful to know I have you on speed dial."   Kathryn Main, CEO at Financial Literacy Disruptor and Educator (One session only)
"I could have never imagined that a powerful tool like this existed. From one session, I had a life changing experience where anxiety, stress and fear was a normal part of my daily routine to a clam clear and collected way of conducting my day. Even more amazing was that EFT was not a temporary solution but a lasting feeling that I still have a week later. EFT has empowered me to take control of so many aspects of my life with confidence and make life so much more enjoyable!"   Pieter, Johannesburg  (One session only)
More client testimonials on topics such as addictions, anger management, anxiety,
depression, trauma etc can be found here
Are you here looking for SOLUTIONS?
And, perhaps need someone to talk to?
I offer a FREE 20 minute consultation online.

FREE 7 day Stress Gone! e-course
Yes, stress sucks and can be detrimental. Yet, stress offers valuable BENEFITS too.
Learn how to take ADVANTAGE of these benefits, and THRIVE in all areas of your life.
* Course is for ANYONE who wants SUCCESS in life!

How Stressed Are You?

Take this FREE Stress Quiz ~ it can provide valuable insights and understanding of your current stress. 
Become empowered by
10 simple questions ~ you maybe surprised!