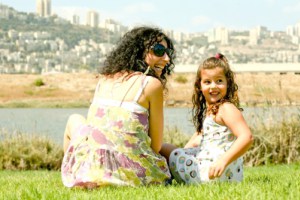 Now for some natural therapy, it's time to kick off your shoes!  Walking barefoot is a simple, free and healthy way of grounding yourself.
This is also known as "earthing".
Being in direct and daily contact with the earth while walking barefoot, sitting or lying on the grass, beach sand, gravel etc has many health benefits. Simply walking barefoot outdoors for just half an hour a day can make all the difference in reducing stress levels, and increasing health and vitality.
As a child, I have vivid memories of running around the farm barefoot, playing in the sandpit (and mud!), rolling down grass terraced embankments, and having endless energy, joy and fun. Co-incidence?  No.
Earthing has been shown to provide more Chi (subtle energy), relieves pain, reduces inflammation, improves sleep, reduces stress, anxiety and depression, improves blood circulation, enhances well-being, and much, much more. Above all, I find walking barefoot to be far better than having a foot massage or reflexology.
If this is information is a little 'unearthly' and abstract for you, there is quite a lot of scientific evidence on this subject:  Earthing: health implications of reconnecting the human body to the Earth's surface electrons.
Internationally renowned medical practitioner, author and business owner Dr Joseph M. Mercola (Mercola.com) has this to say in his 'Earthing' articles, The Ultimate Antioxidant: Fight premature aging for free he explains why walking barefoot is so beneficial.
"Do you notice you feel better when you walk barefoot on the Earth? Recent research has explained why this happens.
Your immune system functions optimally when your body has an adequate supply of electrons, which are easily and naturally obtained by barefoot contact with the Earth.
Research indicates that electrons from the Earth have antioxidant effects that can protect your body from inflammation and its many well-documented health consequences. For most of our evolutionary history, humans have had continuous contact with the Earth. It is only recently that substances such as asphalt, wood, rugs, and plastics have separated us from this contact.
It is known that the Earth maintains a negative electrical potential on its surface. When you are in direct contact with the ground (walking, sitting, or laying down on the earth's surface) the earth's electrons are conducted to your body, bringing it to the same electrical potential as the earth. Living in direct contact with the earth grounds your body, inducing favourable physiological and electrophysiological changes that promote optimum health.
There is an emerging science documenting how conductive contact with the Earth, which has is also known as Earthing or grounding, is highly beneficial to your health and completely safe. Earthing appears to minimize the consequences of exposure to potentially disruptive fields like "electromagnetic pollution" or "dirty electricity."
Some of the recent evidence supporting this approach involves multiple studies documenting Earthing's improvement in blood viscosity, heart rate variability, inflammation, cortisol dynamics, sleep, autonomic nervous system (ANS) balance, and reduced effects of stress.
The ultimate antioxidant and anti-inflammatory.
Grounding or Earthing is defined as placing one's bare feet on the ground whether it be dirt, grass, sand or concrete (especially when humid or wet). When you ground to the electron-enriched earth, an improved balance of the sympathetic and parasympathetic nervous system occurs.
The Earth is a natural source of electrons and subtle electrical fields, which are essential for proper functioning of immune systems, circulation, synchronization of biorhythms and other physiological processes and may actually be the most effective, essential, least expensive, and easiest to attain antioxidant.
Modern science has thoroughly documented the connection between inflammation and all of the chronic diseases, including the diseases of aging and the aging process itself. It is important to understand that inflammation is a condition that can be reduced or prevented by grounding your body to the Earth, the way virtually all of your ancestors have done for hundreds if not thousands of generations."
In another of Dr Mercola's articles, Grounding: The Potent Antioxidant that few know about… and its free he explains this further in the following extract:
"The Earth is negatively charged, so when you ground, you're connecting your body to a negatively charged supply of energy. And since the Earth has a greater negative charge than your body, you end up absorbing electrons from it. The grounding effect is, in my understanding, one of the most potent antioxidants we know of and may have an anti-inflammatory effect on your body. As written in the Journal of Alternative and Complementary Medicine:

"It is well established, though not widely known, that the surface of the earth possesses a limitless and continuously renewed supply of free or mobile electrons as a consequence of a global atmospheric electron circuit. Wearing shoes with insulating soles and/or sleeping in beds that are isolated from the electrical ground plane of the earth have disconnected most people from the earth's electrical rhythms and free electrons.
… A previous study demonstrated that connecting the human body to the earth during sleep (earthing) normalizes the daily cortisol rhythm and improves sleep. A variety of other benefits were reported, including reductions in pain and inflammation. Subsequent studies have confirmed these earlier findings and documented virtually immediate physiologic and clinical effects of grounding or earthing the body."
Unfortunately, few people ever walk barefoot anymore to experience the benefits of grounding. But it is very plausible that some of the people who have converted to barefoot running are experiencing benefits not only from the lack of shoes, but also from the increased connection to the Earth.
Walking barefoot is a valuable aspect of a healthy lifestyle.
Exercising barefoot outdoors is one of the most wonderful, inexpensive and powerful ways of incorporating Earthing into your daily life and will also help speed up tissue repair, as well as easing the muscle pain you sometimes get from strenuous exercise.
A review of the available research, published January 2012 in the Journal of Environmental and Public Health, agrees with the concept of reaping health benefits when connecting to the earth. According to the authors:
"Mounting evidence suggests that the Earth's negative potential can create a stable internal bioelectrical environment for the normal functioning of all body systems. Moreover, oscillations of the intensity of the Earth's potential may be important for setting the biological clocks regulating diurnal body rhythms, such as cortisol secretion.
It is also well established that electrons from antioxidant molecules neutralize reactive oxygen species (ROS, or in popular terms, free radicals) involved in the body's immune and inflammatory responses. The National Library of Medicine's online resource PubMed lists 7021 studies and 522 review articles from a search of 'antioxidant + electron + free radical.' It is assumed that the influx of free electrons absorbed into the body through direct contact with the Earth likely neutralize ROS and thereby reduce acute and chronic inflammation.
Throughout history, humans mostly walked barefoot or with footwear made of animal skins. They slept on the ground or on skins. Through direct contact or through perspiration-moistened animal skins used as footwear or sleeping mats, the ground's abundant free electrons were able to enter the body, which is electrically conductive. Through this mechanism, every part of the body could equilibrate with the electrical potential of the Earth, thereby stabilizing the electrical environment of all organs, tissues, and cells.
Modern lifestyle has increasingly separated humans from the primordial flow of Earth's electrons. For example, since the 1960s, we have increasingly worn insulating rubber or plastic soled shoes, instead of the traditional leather fashioned from hides. Rossi has lamented that the use of insulating materials in post-World War II shoes has separated us from the Earth's energy field. Obviously, we no longer sleep on the ground as we did in times past.
During recent decades, chronic illness, immune disorders, and inflammatory diseases have increased dramatically, and some researchers have cited environmental factors as the cause. However, the possibility of modern disconnection with the Earth's surface as a cause has not been considered. Much of the research reviewed in this paper points in that direction.
When indoors, using a grounding pad or sheet is an excellent way to lower your risk for cardiovascular disease and other problems, such as carpal tunnel syndrome and tendonitis."
I trust the numerous health benefits associated with walking barefoot are enough to encourage you to kick off your shoes every day, and ground yourself in the earth's abundantly vibrant electrons! Your body will love you, and you will enjoy these positive benefits.
For more information about Earthing, here is a book written by Stephen Sinatra and Martin Zucker, Earthing, The Most Important Health Discovery Ever? I haven't read it, but it looks extremely interesting and valuable.
You may also find my post on the Ancient Technique of Sungazing of interest.
Are you here looking for SOLUTIONS?
And, perhaps need someone to talk to?
I offer a FREE 20 minute consultation online.

FREE 7 day Stress Gone! e-course
Yes, stress sucks and can be detrimental. Yet, stress offers valuable BENEFITS too.
Learn how to take ADVANTAGE of these benefits, and THRIVE in all areas of your life.
* Course is for ANYONE who wants SUCCESS in life!

How Stressed Are You?

Take this FREE Stress Quiz ~ it can provide valuable insights and understanding of your current stress. 
Become empowered by
10 simple questions ~ you maybe surprised!