12 Tips to Reduce Entrepreneurial Stress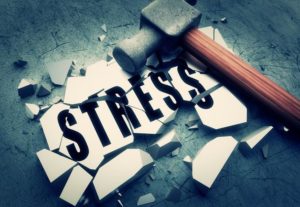 Being an Entrepreneur can be exciting, gratifying, challenging and of course, stressful too. The freedom of having your own business, being your own boss, making decisions maybe rewarding but the responsibility is stressful. More especially when there is more month than money, staff, suppliers and bills to pay with little left over for your needs. Entrepreneurs are renowned for juggling multiple roles, pushing the envelope, and squeezing the most out of any resource.
Relentless stress can seem insurmountable, but the choice is entirely yours. Can you afford to let stress continually grip, and tighten its hold over you, your business, and ultimately your success?  No, of course not! Managing entrepreneurial stress is vital for your health and well being, your family as well as the success of your business, particularly when others also rely upon you.
In South Africa alone, the stress related statistics are alarming:
South Africa is the 2nd most stressed country in the world. This is according to a Bloomberg study conducted in 2013. Well before the Rand tanked, food and fuel prices shot up.
Although a shocking 49 murders take place in SA daily, a whooping 210 people die every day of heart disease. Stress is a large contributor towards heart related disease.
Stress alone is responsible for approximately 90% of all illness and disease according to the medical fraternity.
Absenteeism costs corporate SA approx R19 billion annually. This is largely due to staff burnout as a result of unresolved stress related issues.
What is stress costing you and your business?
Are you a potential candidate and statistic in the making? Hard hitting shocking question I know, but most people are in complete denial of their stress, and worst still, oblivious to the real dangers of stress. Instead, many proudly wear their stress like a 'badge of honour' erroneously thinking stress and success go hand in hand. There's also a bizarre modern-day belief that the more stressed one is, the more successful one is likely to become. Utter bollocks!
It's a well known fact that far more productivity is achieved when one is calm and clearheaded. Although stress can be life threatening, playing martyr certainly isn't worth it. Crucial attention is required to adequately manage your stress levels, if not for your own sake, then at least for your loved ones. Not only is this vitally important but it is imperative. Stress can erode your state of being. This can lead to serious health consequences and psychological problems, which affect you, and everything you hold dear, including your business.

12 Tips to Reduce Entrepreneurial Stress:

1.  Self Care, look after yourself first. As an entrepreneur you are the biggest asset in your business, and entrepreneurial stress can impact your ability to look after yourself. Ralph Waldo Emerson said, 'The first wealth is health.' Self care is vital, especially as you're the breadwinner. Ensure you get sufficient quality sleep, eat healthy and nutritious food, maintain proper hydration by drinking plenty of still water, and get moderate exercise at least 3-4 times a week. Avoid all stimulants such as caffeine, energy drinks, sodas, sugar and alcohol, which can exacerbate stress by putting more strain and pressure on your body's health and well being. If you're experiencing sleeping problems, not eating properly, feeling fatigued, exhausted and overwhelmed, seek professional help.
2.  Plan the day. Planning your day helps reduce daily stress. Keep a diary and prioritised 'to-do-list', and update both daily. This prevents a scattered mindset, reduces forgetfulness, and improves performance whilst freeing your mind for productivity, creativity and planning. Planning each day the night before eliminates chaos and reduces unnecessary stress and pressure.  While sleeping, the subconscious mind helps prepare for the day's tasks ahead. This simple step can significantly improve performance, productivity and creativity, and when combined with visualisation is known to dramatically improve sales and income.
3.  Dreaded tasks. Instead of procrastinating, handle the most difficult dreaded task first thing in the day when you are fresh. This simple step frees you from carrying unnecessary stressful burdens for the rest of the day. Just get it done! Also ensure you handle what is important before it becomes urgent.
4.  Get organised, routine reduce stress. Routine is critical for a well managed business. This helps one cope with stress more effectively. Maintaining a daily routine removes that dreadful 'rush', reduces unnecessary stress, but more importantly, gives you more leisure time. Your routine can include the time you wake up and go to sleep, exercise, eat meals, check emails, make phone calls, plan your diary etc. The body clock prefers routine, and orderly behaviour reduces cognitive and physical stress.
5.  Dress codes. Successful individuals like Barack Obama, Steve Jobs and Mark Zuckerberg all settled on simple wardrobes for very specific reasons. Fewer decisions. Reduced decision fatigue. Less energy and time wasted. Less expense. Less stress. More peace of mind. More time and energy available for creativity, productivity, and focus on important tasks. Keep it simple, and stylish if you must.
6.  Progress not perfection. Perfection doesn't exist expect in your own mind. Perfectionism disguises fears and insecurity. It's now time to root this out, free up your time, and live a little. Success is determined by incremental small steps. Too many people get trapped by the fear of a goal, fear of failure, fear of success, fear of the unknown, and thus, procrastinate. Just do it. Action and constant progress ensures success. Letting go of perfection releases unnecessary stress.
7.  Delegate. Entrepreneurs usually take on multiple roles which can be tiring and stressful because they're cramming too many tasks into a day. If you have employees apportion your workload to them. Delegate, or better still, outsource. Invest in business partnerships and suppliers who can probably be far more cost effective long term. This will make your business more profitable, more efficient and effective, but most importantly, reduce your stress exponentially. If you have school going children, a great way to maximise your time efficiently is to use a service like Uber to help you manage your children's busy schedules.
8.  Learn to say No. This maybe hard especially if you're a people pleaser. Learning to say 'No' is about being assertive, whilst clearly defining boundaries. This can be particularly helpful for reducing stress because it reduces an unnecessary workload while also freeing your time up for more important tasks at hand. Perhaps, it's time to toughen up and become more assertive, purely for the sake of your own health and well being.
9.  Laugh more. Laughter is a great stress reliever because it stimulates oxytocin, 'the bliss hormone' which counters the negative effects of stress chemicals. Stop taking life so seriously. Make a concerted effort to have fun, and enjoy your day no matter what. Choose to laugh at yourself and life's quirks, instead of feeling miserable and down. Laughter, like stress, is contagious. Besides, what you think about, you bring about, and what you focus on expands. Smile at others – they'll wonder what you've been up to! Laughter and smiling cost nothing, and you'll feel better.
10.  Don't be afraid to talk to someone if you need help. Talking to someone relieves stress. If you're struggling, call and talk to a friend or family member. A problem shared is a problem halved. If your stress is serious, make an appointment with a professional who will provide objective sound advice. If necessary, seek a second and thrid opinion before making a decision. Find a coach or mentor. Every successful entrepreneur has one or both.
11. Gratitude. Practising gratitude every day helps put things into perspective, releases happy hormones, and makes one feel positive. This reduces stress exponentially. Keep it simple.  Look for opportunities to continually show gratitude. Be thankful and always bless people who help, support, serve, love, and work for you. Continually repeat gratitude statements throughout the day, using opportunities when driving, cooking, cleaning, bathing etc. A grateful mind is a peaceful mind.
12.  Take time out, and switch off. Be disciplined and make a date with yourself – every day at 7pm switch off your phone, kick back and relax for 2 to 3 hours before going to sleep. Give your mind time to unwind. At least once a week take time out for something special for your benefit and enjoyment – something as simple as a movie, dinner, a picnic, bicycle ride in the park or sunset walk.
In closing, have you noticed aircraft safety procedures always ask passengers to take care of their own needs first, before attending to others, including children. This is for valid reason – you can only help another if you've helped yourself first. You are important. Value and appreciate yourself by taking crucial but simple steps to reduce your stress levels. Life will be far more enjoyable as a result.
If necessary, seek professional help. Either from myself or someone else, but get help wherever possible to reduce your stressful burdens.  If you'd like to have a chat, I offer a free 20 minute evaluation
Are you here looking for SOLUTIONS?
And, perhaps need someone to talk to?
I offer a FREE 20 minute consultation online.

FREE 7 day Stress Gone! e-course
Yes, stress sucks and can be detrimental. Yet, stress offers valuable BENEFITS too.
Learn how to take ADVANTAGE of these benefits, and THRIVE in all areas of your life.
* Course is for ANYONE who wants SUCCESS in life!

How Stressed Are You?

Take this FREE Stress Quiz ~ it can provide valuable insights and understanding of your current stress. 
Become empowered by
10 simple questions ~ you maybe surprised!
Stress Management Testimonials



"Bridget is sharply observant of the source of one's stresses and strains and is immensely enthusiastic and motivational in helping one deal with challenges in all arenas of life. So glad she is a consultation away #gratitude."  Michele Higginson, CEO and Owner at Crabtree & Evelyn  (One session only)
"Bridget was my life line when I was going through a very difficult time in my life. The anti-stress techniques she taught me were invaluable and she was a text away anytime i needed her. I'm so grateful to know I have you on speed dial."   Kathryn Main, CEO at Financial Literacy Disruptor and Educator (One session only)
"I could have never imagined that a powerful tool like this existed. From one session, I had a life changing experience where anxiety, stress and fear was a normal part of my daily routine to a clam clear and collected way of conducting my day. Even more amazing was that EFT was not a temporary solution but a lasting feeling that I still have a week later. EFT has empowered me to take control of so many aspects of my life with confidence and make life so much more enjoyable!"   Pieter, Johannesburg  (One session only)
More client testimonials on topics such as addictions, anger management, anxiety,
depression, trauma etc can be found here