Tim Phizackerley, the creator and founder of PSTEC™ has put together some excellent tools especially to aid people who wish to acheive more success and abundance in whatever area or aspect of life – financial, relationships, career, peak performance etc.
Below please find a list of the recommended PSTEC™ products, which you can choose from based upon the circumstances that you wish to improve in terms of success and abundance:
1.   PSTEC How to Achieve Almost Anything – The Easy Way:
This one is destined to become a classic!   On this audio you'll discover how to "re-pattern your life" for whatever successes you want the easy way. How you can use PSTEC™ and other simple techniques to turn past failures into future successes. In other words, how to achieve almost anything you want to achieve, and discover how to do it the easy way. (approx 3 hour instruction included)
* Experience more good fortune

* Set goals and achieve them
HURRY, I want to download PSTEC's How to Achieve Almost Anything – The Easy Way right away, I cannot wait any longer!!
2.   Success with PSTEC & PSTEC Positive Audio Package:
This audio is in two parts…
Part 1.   Success with PSTEC™ – discover how to be most successful with PSTEC™.
Part 2.  The PSTEC™ Positive Techniques – this PSTEC™ Positive is very different from the free basic emotion neutralizer audios.
With PSTEC™ Positive you specify changes, and then install them using the PSTEC™ Positive system. The instructions in part two of this audio will give you the knowledge that you need to use PSTEC™ Positive. The two essential PSTEC™ Positive click track audios you require are included.
The PSTEC Positive Audio Package includes three audio files; Success and PSTEC Positive (instructions); PSTEC Positive Click Track 1, the tapping version; and PSTEC Positive Click Track 2, the non tapping version. (Approx 1 hour and 5 minutes of audio)
3.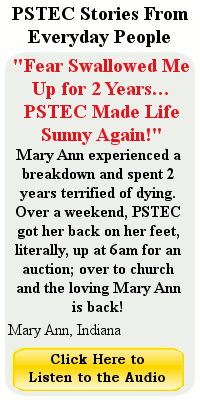 PSTEC Accelerator Package:
How To Create More Success, Blast Through More Problems, And Enjoy Even More Profound Results.
Are you using PSTEC on a regular basis? Then let me tell you about the PSTEC Accelerators. PSTEC is extremely powerful. You've probably found that out for yourself already. The various PSTEC tracks amaze most people who use them but even so, Tim has figured out ways to increase the power even more. That's the purpose of the PSTEC Accelerator tracks: To "ramp up" the power of every other PSTEC track.
4.   Think and Grow Rich with PSTEC™ – 6x month program with monthly modules
Based on the internationally recognised and best selling works of Napoleon Hill's 'Think and Grow Rich'.   Can You Just Think and Grow Rich?  Most people say "no" … until they apply the Power of PSTEC to Think and Grow Rich
When Napoleon Hill wrote Think and Grow Rich he told us to use our subconscious minds.
Do it and succeed.  That was his message.  He could never have imagined anything as powerful as PSTEC to help program the subconscious. (When it comes to programming the human mind, PSTEC can make other methods seem feeble.)
PSTEC tools have been developed for all kinds of things, and finally it's time to Think and Grow Rich with PSTEC.  This is by far the most exciting PSTEC project ever and what's more, you can begin immediately.
I trust these PSTEC™ audios will assist you to a happier, healthier and more successful future. Emotional health and well being; this is your right – claim it!
I endorse PSTEC™ because this process achieves fabulous results – both personally and with clients in my practise.
Enjoy!! And, please feel free to refer my website to friends and family – the more the merrier, thank you.
Are you here looking for SOLUTIONS?
And, perhaps need someone to talk to?
I offer a FREE 20 minute consultation online.

FREE 7 day Stress Gone! e-course
Yes, stress sucks and can be detrimental. Yet, stress offers valuable BENEFITS too.
Learn how to take ADVANTAGE of these benefits, and THRIVE in all areas of your life.
* Course is for ANYONE who wants SUCCESS in life!

How Stressed Are You?

Take this FREE Stress Quiz ~ it can provide valuable insights and understanding of your current stress. 
Become empowered by
10 simple questions ~ you maybe surprised!